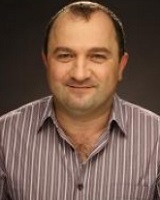 GM Title since 2005.
Professional Coach since 1990.
Worked for the Armenian Chess Federation since 1900 through departure from Armenia in 2001.
Trained L. Aronian, 1990-1997. In 1995 I got the title on Honored Coach of Armenia for L. Aronian's successes.
Raised many talented kids in Armenia, who eventually became known in chess world. Among them: GM A. Pashikian, GM T. Petrosian, GM T. Gharamian. All of them have reached NM  level under my trainings.
Helped as well to WGM E. Danielian and WIM N. Aghinian for some period of time.
From 2001 to current – coaching  in the US.
Most honorable students are:
GM S. Zierk (World Champion U18);
GM K. Troff ( helped for 2 years to reach strong 2300 level, winning Silver and Gold on World Youth Championships;
IM C. Hilby.
Current students: IM A. Wang and WIM A. Eswaran.
Teaching on www.chess.com since 2009.
Head Coach of the Women Olympic Team since 2010, and Team Captain since 2017.
In 2018 got invitation to become one of counselors for TRG.