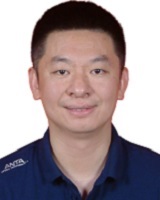 Yu Shaoteng (simplified Chinese: 余少腾) born March 26, 1979 in Guangdong, China.
Chess Grandmaster, Fide Senior Trainer, The Head Coach of China National Women Team.
Early years
8 years old began to learn Chess. He was selected to join the Guangdong provincial chess team when he was 10 years old. At the age of 13, he became the youngest Chess player in China national team.
Performance in competitions
1994-1996, 2000-2002,2004 As one of Guangdong Team player won the national team championship seven times
1998 World Olympiad Team won the Fifth – Elista Russia
2003 Won the championship in Asian Team Championship – Jodhpur India
2004 Became the Grandmaster
2005 Won the championship in World Cup qualifier China Zonal 3.5
Career as Coach
2006 – As Coach of Xu Yuhua won the 2006 World Women's Individual Championship
2010-2011. 2013.2016 – As Coach of Hou Yifan four times won the World Women's Individual Championship
2010 – Became the Coach of China National Women Team
2011 – Captained Chinese team won the 2011 World Women's team championship in Hatay Turkey
2016 – Captained Chinese team won the 2016 World Women's Team Olympiad championship in Baku Azerbaijan
2017 – As Coach of Tan Zhongyi won the 2017 World Women's Individual Championship in Tehran Iran
2018 – Captained Chinese team won the 2018 World Women's Team Olympiad championship in Batumi Georgia
2019 – Captained Chinese team won the 2019 World Women's team championship in Astana Kazakhstan