Results of the FIDE Trainer Seminar in Casablanca
The first FIDE Trainer Seminar in Morocco was held from 25 to 27th August 2019 in the Mogador Hotel Center (Casablanca) on the sidelines of the Pan African Chess Championship.
52 trainers from Morocco, one from Senegal, one from Mali, one from France and one from Mauritania participated in the seminar.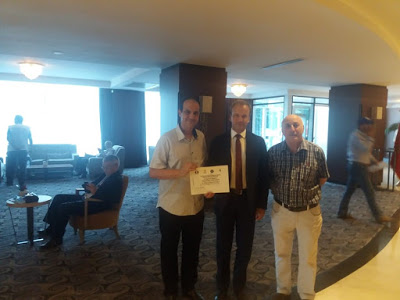 Lecturer leader, FST, GM, IO, and NA Slim Bouaziz (Tunisia) had done his best to make the participants enjoy the lecture and the was very pleased with the activities and the examinations.
Taking in mind the chess level, trainers experience, the titles, the bibliography, the attendance and the exams, the participants were awarded 33 DI title and 23 NI titles.
I would say many thanks to the African Chess Confederation and Morocco Chess Federation which helped us in our work for the technical and organizational success of this seminar.
Results Table
| | | | | |
| --- | --- | --- | --- | --- |
| No. | FIDE ID | Surname, Name | Country | Title Proposed |
| 1 | 9003002 | Aattar, Ikram | Morocco | DI |
| 2 | 9002456 | Abouassal,Nabil | Morocco | NI |
| 3 | 9001220 | Adel, Abdelaziz | Morocco | NI |
| 4 | 9000054 | Ait Hmidou, Abdellah | Morocco | NI |
| 5 | 9001158 | Akkour, Abderrahim | Morocco | NI |
| 6 | 9004904 | Anwar, Tarik | Morocco | DI |
| 7 | 392080834 | Bakani, Mustapha | FIDE | DI |
| 8 | 9013296 | Bamafi, Hamid | Morocco | DI |
| 9 | 26039990 | BenJelloun, Youness | France | NI |
| 10 | 9001719 | Bennasser, Moanisse | Morocco | DI |
| 11 | 9006095 | Bismillah, Nezha | Morocco | DI |
| 12 | 9011579 | Chouki, Fouad | Morocco | DI |
| 13 | 9001875 | Chahboun, Mostafa | Morocco | NI |
| 14 | 19900171 | Cisse, Ibrahima | Senegal | NI |
| 15 | 9002847 | El aadli,Mustapha | Morocco | NI |
| 16 | 9002812 | Elaouni,Said | Morocco | DI |
| 17 | 9002502 | El bakali, Kamal | Morocco | NI |
| 18 | 9002537 | Echajari, Khalid | Morocco | NI |
| 19 | 9002545 | El fezari, Mohamed amine | Morocco | NI |
| 20 | 9006222 | El habachi, Rachid | Morocco | NI |
| 21 | 9007245 | El Haimer, Mohamed | Morocco | DI |
| 22 | 9001956 | El kamous, Abderrahim | Morocco | DI |
| 23 | 9007911 | Elwardi,abderafia | Morocco | NI |
| 24 | 9013164 | Erraji, Abdenbi | Morocco | DI |
| 25 | 9014900 | Ezzaidi, Ahmed | Morocco | NI |
| 26 | 9000542 | Fahli,Rachid | Morocco | NI |
| 27 | 9015850 | Fellah, Mohamed | Morocco | DI |
| 28 | 19600844 | Ghailani, Mohamed Salem | Mauritania | DI |
| 29 | 9014934 | Houri, Mohamed | Morocco | DI |
| 30 | 9015817 | Kabbach, Boujemaa | Morocco | DI |
| 31 | 19800223 | Kadouno, Drissa | Mali | DI |
| 32 | 9007261 | Kanas, Hassan | Morocco | DI |
| 33 | 9005358 | Karkazi, Aziz | Morocco | NI |
| 34 | 9002855 | Khamli, Mustapha | Morocco | NI |
| 35 | 9015841 | Laghmari, Aziz | Morocco | DI |
| 36 | 9006818 | Lamtaouab, Brahim | Morocco | DI |
| 37 | 9003819 | Makhlouf, Ali | Morocco | NI |
| 38 | 9005951 | Merzougui abdouh,Hassan | Morocco | NI |
| 39 | 9001905 | Mouini,Abdelkader | Morocco | DI |
| 40 | 9012508 | Moukhliss, Abdelhak | Morocco | DI |
| 41 | 9002715 | Msiah, Mustapha | Morocco | DI |
| 42 | 9000739 | Naciri, Zouhair | Morocco | NI |
| 43 | 9001395 | Nafri, Khalil | Morocco | NI |
| 44 | 9001352 | Ouadif, Kacem | Morocco | DI |
| 45 | 9015809 | Oubaaqa,Amina | Morocco | NI |
| 46 | 9014284 | Oujaa, Mohamed lahbib | Morocco | NI |
| 47 | 9015175 | Ramadan, Meryem | Morocco | DI |
| 48 | 9015094 | Ghizlane, Rihan | Morocco | DI |
| 49 | 9009019 | Samir,Sifeddine | Morocco | DI |
| 50 | 9005455 | Tabich, Issam | Morocco | DI |
| 51 | 9015825 | Taghda, Lahcen | Morocco | DI |
| 52 | 9002936 | Thaili, Jamal | Morocco | DI |
| 53 | 9015833 | Touktah, Ahmed | Morocco | DI |
| 54 | 9015787 | Zerioul, Mhammed | Morocco | DI |
| 55 | 9006958 | Zidane, Chakib | Morocco | DI |
| 56 | 9007296 | Yahyioui, Ahmed | Morocco | DI |