Results of the FIDE Trainers' Online Seminar in French, 27-29 January 2023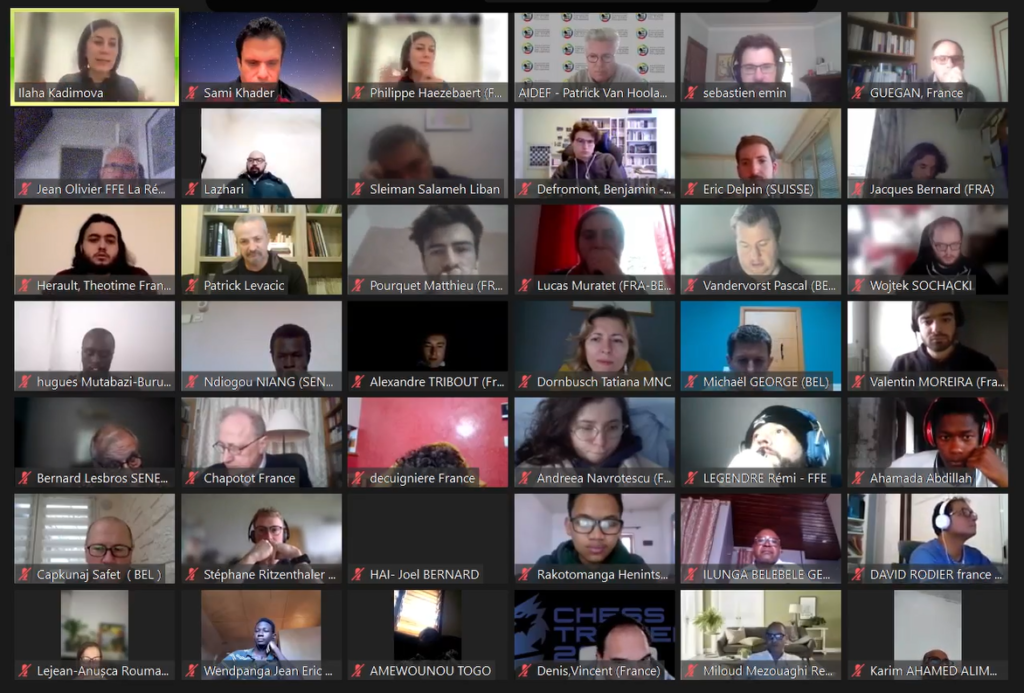 With the support of FIDE, Francophone Chess Association (AIDEF) under the supervision of TRG organized a very successful online trainers' seminar in French on January 27-29, 2023.
Collaboration between FIDE and AIDEF brought together 61 participants from 27 countries. High-quality materials were presented by great lectures GM Mikhail Gurevich, GM Iossif Dorfman, GM Victor Bologan and WGM Ilaha Kadimova. Special thanks go to Patrick Van Hoolandt, President of AIDEF, for his efforts, participation and contribution.
| | | | | |
| --- | --- | --- | --- | --- |
| No. | FIDE ID | Name | FED | Proposed Title |
| 1 | 20673736 | Lutard Florian | FRA | FI |
| 2 | 680184 | Muratet Lucas | FRA | FI |
| 3 | 651389 | Sochacki Wojtek | FRA | FT |
| 4 | 650781 | Chapotot Henri | FRA | NI |
| 5 | 21400890 | Kasongo Kazadi Olivier | COD | NI |
| 6 | 36053708 | Herault,Theotime | FRA | FI |
| 7 | 638080 | Ritzenthaler Stéphane | FRA | NI |
| 8 | 7811136 | Lazhari, Noreddine | Morocco | NI |
| 9 | 20630921 | Denis Vincent | FRA | FI |
| 10 | 625027 | Rodier David | FRA | NI |
| 11 | 612634 | Mezouaghi Miloud | FRA | FT |
| 12 | 210005 | Vandervorst Pascal | BEL | FI |
| 13 | 21400903 | Ilunga Belebele Gento | COD | DI |
| 14 | 21400210 | Eustache Kazadi | COD | DI |
| 15 | 26093820 | Decuigniere Tom | FRA | FI |
| 16 | 207292 | George,Michael | BEL | NI |
| 17 | 614831 | Lesbros,Bernard | SEN | FI |
| 18 | 616176 | Bernard,Jacques | FRA | FI |
| 19 | 658049 | Legendre Rémi | FRA | FI |
| 20 | 20654642 | Pourquet,Matthieu | FRA | FI |
| 21 | 608440 | Haezebaert Philippe | FRA | FI |
| 22 | 36012793 | Moreira Valentin | FRA | NI |
| 23 | 17400864 | Pissama Ntsaou, Martial | Gabon | DI |
| 24 | 11902043 | Prophete,Alixen | HAI | DI |
| 25 | 11901233 | Charleus Jacklin | HAI | DI |
| 26 | 11900652 | Bernard,Joel | HAI | DI |
| 27 | 11900873 | Gedeus,Steven Daniel | HAI | FI |
| 28 | 681407 | Bodin-Hullin,Thomas | SEN | NI |
| 29 | 653073088 | Emin ,Sebastien | FRA | DI |
| 30 | 36068829 | Defromont Benjamin | FRA | FT |
| 31 | 694185 | Guégan Michel | FRA | FI |
| 32 | 36051586 | Tribout Alexandre | FRA | NI |
| 33 | 19601590 | Mohamed Jiddou | MTN | DI |
| 34 | 29400120 | Yacouba Souley, Moussa | NIG | DI |
| 35 | 7816669 | Salami,Mohamed Arafat Olag | FID | DI |
| 36 | 13102664 | Rakotomanga, Henintsoa Anthony | MAD | FI |
| 37 | 1313436 | Delpin, Eric | SUI | FI |
| 38 | 627143 | Shoker, Samy | EGY | FT |
| 39 | 21200017 | Amewounou, Komlan Kouessan | TOG | NI |
| 40 | 14107449 | Dornbusch, Tatiana | MNC | FI |
| 41 | 7816839 | Toukourou,Abdul Jabaar Abiola Akambi | FIDE | DI |
| 42 | 20804210 | Mosso, Guy Serge | CIV | NI |
| 43 | 675946 | Navrotescu, Andreaa | FRA | FI |
| 44 | 20802528 | Lago, Michel | CIV | NI |
| 45 | 16400291 | Ebosse Kingue, Victor Patrick | CMR | FI |
| 46 | 4703502 | Temali, Erion | ALB | DI |
| 47 | 9017437 | Gharbouj Soufiane | MAR | NI |
| 48 | 21400342 | Deogracias Tumba | COD | DI |
| 49 | 20900325 | Karim Ahamed Alimoundhir | COM | DI |
| 50 | 14501678 | Levacic, Patrick | CRO | FT |
| 51 | 19800380 | Maiga,Baba Moulaye Abdalla | MLI | NI |
| 52 | 19900627 | Ndiogou Niang | SEN | DI |
| 53 | 5307783 | Salameh, Sleiman | LBN | NI |
| 54 | 645010 | Koumba, Mounguen Jose Evrard | GAB | NI |
| 55 | 273244 | Capkunaj, Safet | BEL | DI |
| 56 | 1215396 | Lejean-Anusca, Madalina-Maria | ROU | FI |
| 57 | 20300387 | Mutabazi, Hugues | BDI | NI |
| 58 | 22021060 | Kabore, Wendpanga Jean-Eric | BUR | DI |
| 59 | 606146 | Jean,Olivier | FRA | FT |