FIDE Trainer Seminar in Taipei
Report by Peter Long
A FIDE Trainers Seminar was held in Taipei, Taiwan from 3-5 August 2019 in conjunction with the 13th Asian Dragons Invitational at the request of the organisers who asked help from the FIDE Trainers Commission to develop their local coaches and coaching infrastructure.
The Asian Dragons which took place from 3-8 August is a regional developmental event with Open and U-16 categories designed to provide opportunities for players below 2200 and 1600 respectively, and at its core, participants from neighbouring Hong Kong, Macau, South Korea and of course hosts Taiwan (with Singapore in the early years providing the higher rated players).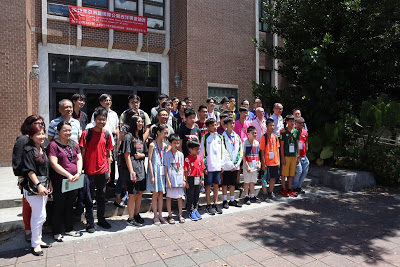 Over the years the level has risen considerably and in recent years not only has Japan has become a regular guest but from time to time players from Malaysia and Thailand have also been invited to add to the mix. Very often requests from other much further away countries like Australia and even the USA have also been warmly entertained.
Unfortunately the traditional dates of the Asian Dragons this year clashed with the East Asian Youth Championships and together with the double round a day format this simply meant many trainers had to cancel their planned participation.
The good news was the seminar could then be redesigned to meet the requirements of coaches doing the work of a National Instructor and a Developmental Instructor.
Participating were the two founders and heads of leading chess academies in Taipei and Kaohsiung and two young players looking to become trainers and to successfully bring chess to their respective universities located in major urban areas in the greater Taipei Metropolis.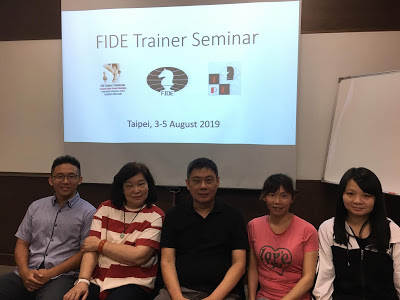 Results Table
| | | | | |
| --- | --- | --- | --- | --- |
| No. | FIDE ID | Surname, Name | Country | Title Proposed |
| 1 | 16300807 | Yueh, Sun-Hwa Angela | Chinese Taipei | DI |
| 2 | 16300920 | Hwang, Chyi | Chinese Taipei | DI |
| 3 | 16301013 | Hsieh, Wen-Chin | Chinese Taipei | DI |
| 4 | 16303830 | Jao, Mei Ling | Chinese Taipei | DI |