Results of the FIDE TRAINERS' ONLINE SEMINAR – 22-24 September 2023 (English)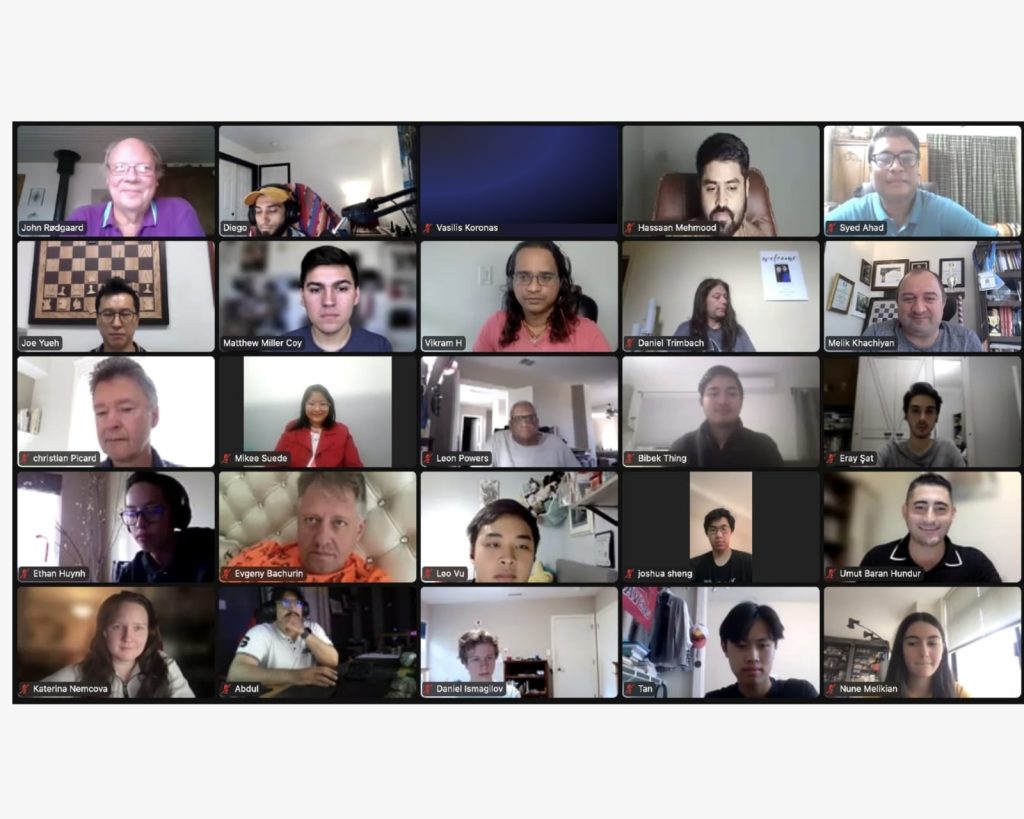 30 participants from 16 different countries: BAN, CAN, FAI, FID, GRE, HUN, IND, KSA, NEP, PAK, PHI, RSA. TPE, TUR, USA, and VIE, attended the FIDE Trainers' Online Seminar successfully organized by Melikset Khachiyan FIDE Chess Academy under the supervision of The FIDE Trainers' Commission.
High quality of material was presented by a number of the best lecturers, which clearly increased the value of the seminar.
Among the participants there were trainers (already having trainer titles) aiming to upgrade their knowledge and certification.
| | | | | |
| --- | --- | --- | --- | --- |
| No. | FIDE ID | Name | Fed | Proposed Title |
| 1 | 10208313 | Ahad, Syed Abdul | BAN | NI |
| 2 | 21532613 | Alshaya, Abdulmohsen Ahmed A | KSA | DI |
| 3 | 35060511 | Arasappan T | IND | NI |
| 4 | 150267440 | Bachurin, Evgeny | FID | DI |
| 5 | 30964334 | Coy, Matthew | USA | NI |
| 6 | 742910 | Csonka, Balazs | HUN | FT |
| 7 | 7806809 | HASSAAN MEHMOOD | PAK | NI |
| 8 | 30998603 | Hendricks, Diego | USA | DI |
| 9 | 30947103 | Honmurgi, Vikram | USA | DI |
| 10 | 51650444 | Hundur, Umut Baran | TUR | DI |
| 11 | 39936287 | Huynh , Ethan | USA | DI |
| 12 | 39920160 | Ismagilov, Daniel | USA | DI |
| 13 | 8603103 | Joe Yueh, Wei Po | TPE | FI |
| 14 | 54110718 | Khachatryan, Nune | USA | NI |
| 15 | 4215397 | Koronas, Vasilios | GRE | NI |
| 16 | 5044251 | Madhuri, N | IND | FI |
| 17 | 322750 | Nemcova, Katerina | USA | FT |
| 18 | 14319640 | Nkwe, Omogolo | RSA | FI |
| 19 | 12401285 | Pham, Bich Ngoc | CAN | FT |
| 20 | 12436470 | Phan Nguyen Ngoc | VIE | DI |
| 21 | 2639203 | Picard, Christian | CAN | NI |
| 22 | 2048884 | Powers, Leon | USA | NI |
| 23 | 7200013 | Rodgaard, John | FAI | FI |
| 24 | 6347967 | Sat, Eray | TUR | NI |
| 25 | 2057360 | Sheng, Joshua | USA | FT |
| 26 | 5208920 | Suede, Mikee Charlene | PHI | FI |
| 27 | 12303135 | Thing, Bibek | NEP | FI |
| 28 | 30941814 | Trimbach, Daniel | USA | FI |
| 29 | 30933170 | Vu, Leonard | USA | NI |
| 30 | 39917339 | Vu, Tan | USA | DI |