Report of FIDE Trainers Online Seminar, 5-7 August 2021
Under the supervision of FIDE Trainers' Commission, the Arab Chess Federation and Asia Chess Academy – Jordan, added a new Trainer's seminar to their list of successful online events that started with the very beginning of the pandemic.
From the 5th to the 7th of August 2021, 33 participants from 17 Arab countries attended a rich Trainers' Seminar presented by top lecturers including GM Artur Jussupow, GM Rustam Kasimdzhanov, GM Ivan Sokolov, GM Alexey Dreev, GM Bassem Amin and IM Sami Khader.
FIDE President Mr. Arkady Dvorkovich and Arab Chess Federation President Sheikh Saud Bin Abdulaziz Al Mualla and Mr. Rajai Al–Susi, honored the closing ceremony and congratulated both organizers and participants on the successful event.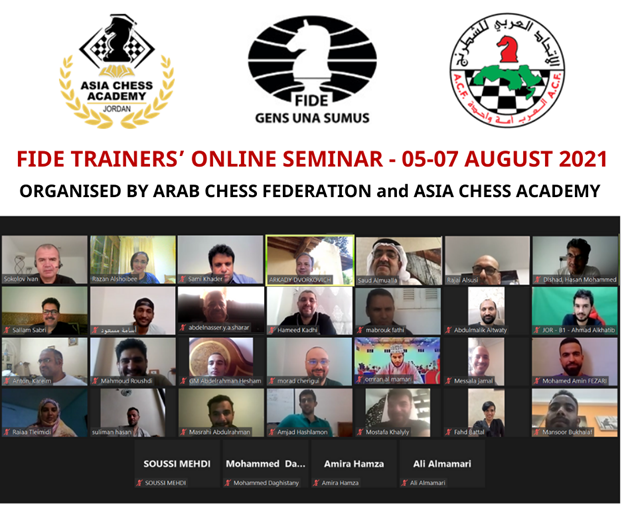 Mr. Arkady Dvorkovich expressed his pleasure to attend the ceremony and his admiration to the efforts made by Arab Chess Federation and the organizers to conduct these events which develop and spread the game in the region.
Mr. Arkady assured that Trainers' Seminars are essential in developing the game in the region and he also assured FIDE's continual technical and financial support to Arab chess.
By the same token, he expressed his contentment for the number of participants and the class of the trainers to whom he extended his thanks for their consistent contribution to develop new generations of trainers.
In his address, Arab Chess Federation President Sheikh Saud expressed his gratefulness for FIDE and its president for the support given to Arab chess and invited him to attend the 4th Sharjah Masters International, which will be held during the period from 16th to 26th September 2021. He also extended his thanks to the lecturers and wished participant the best of luck.
Results Table
| | | | | |
| --- | --- | --- | --- | --- |
| No. | FIDE ID | Name | Fed | Title Proposed |
| 1 | 7901160 | Hamza, Amira | ALG | FI |
| 2 | 11200600 | Bukhalaf, Mansoor | BRN | DI |
| 3 | 11202882 | Ebrahim, Ahmed | BRN | DI |
| 4 | 10600183 | Hesham, Abdelrahman | EGY | FT |
| 5 | 10607447 | Roshdy, Mahmoud | EGY | FI |
| 6 | 10616772 | Anton, Kareim | EGY | DI |
| 7 | 4820355 | Dlshad, Hasan Mohammed | IRQ | DI |
| 8 | 8122024 | Mohammed Al-daghistaniy | JOR | DI |
| 9 | 21501564 | Masrahi, Abdulrahman A | KSA | NI |
| 10 | 9211780 | Altwaty, AbdulMalik A. | LBA | NI |
| 11 | 5304520 | Khalili, Moustafa | LBN | FI |
| 12 | 9008039 | SOUSSI MEHDI | MAR | NI |
| 13 | 9002529 | Cherigui, Mourad | MAR | FI |
| 14 | 9000682 | Messala, Jamal | MAR | FI |
| 15 | 9002545 | El Fazari, Mohamed Amin | MAR | FI |
| 16 | 19604483 | Tleimidi Raiaa | MTN | DI |
| 17 | 22007083 | Al Mamari, Imran | OMA | NI |
| 18 | 22008136 | Al Darwashi, Usama | OMA | NI |
| 19 | 22009671 | Al Mamari, Ali Abdullah | OMA | NI |
| 20 | 11502592 | Hashlamon, Amjad | PLE | FI |
| 21 | 11502967 | Abdalnaseer Y.A.Abusharar | PLE | NI |
| 22 | 12202576 | Abdelazeez, Mohamed Abdalla | SUD | FI |
| 23 | 7603746 | Hasan, Soliman | SYR | NI |
| 24 | 7611765 | Zeiti,Ali. | SYR | NI |
| 25 | 5500672 | Mabrouk Fathi | TUN | FI |
| 26 | 9400087 | Sallam, Sabri Abdul-Mawla | YEM | FT |