Results of the FIDE Trainer Seminar in Beijing
Report by Peter Long
The Capital Institute of Physical Education and Sport in Beijing, China together with the Chinese Chess Association, organised a very special FIDE Trainer Seminar with practically the entire China National Team Coaching Panel with no less than four FIDE Senior Trainers agreeing to be lecturers.
GMs Ye Jiangchuan, Xie Jun, Xu Yuhua and Xu Jun were only missing Yu Shaoteng who was on national assignment at the Russia-China Match.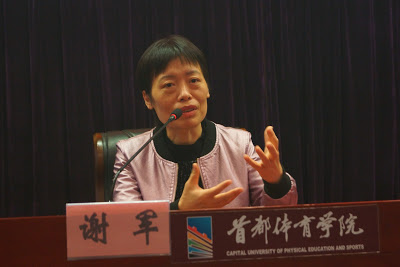 Xie Jun is China's first World Chess Champion and the inspiration for generations of chess players after, is also a Vice President at the Capital Institute.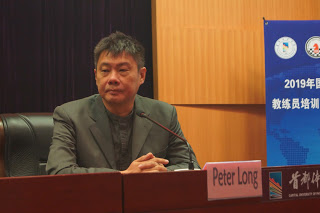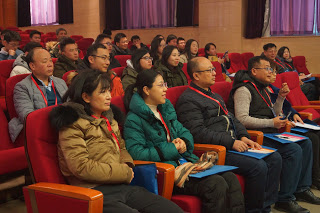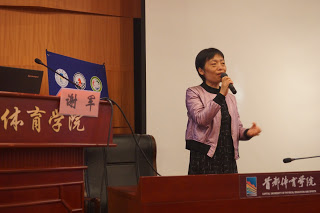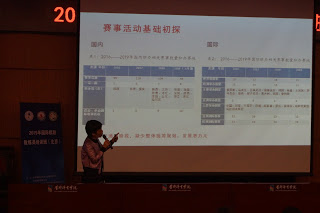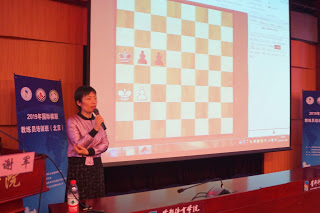 The first topic was on how to teach and study theoretical endgames.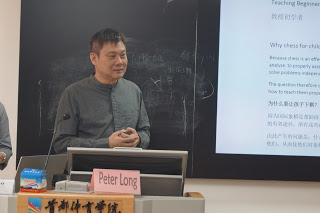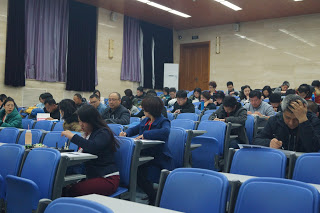 Like in many parts of the world, chess is growing at grassroots level and so it was necessary to have a discussion on the various challenges faced by trainers while doing a workshop on the 'ABCs of Teaching Chess to Beginners'.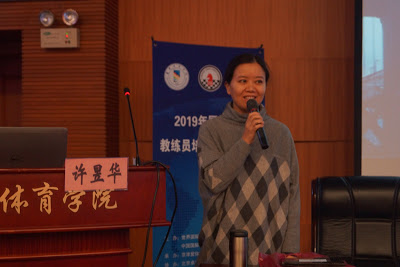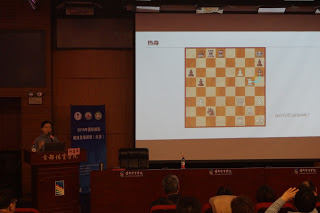 Xu Yuhua is also a World Champion and a very popular and charming personality who provided instruction on tactics, attack and calculation.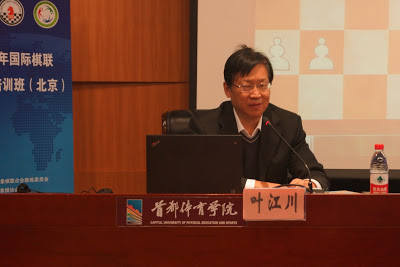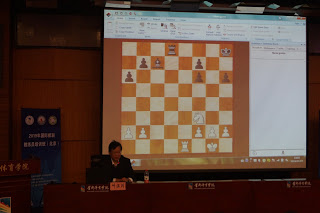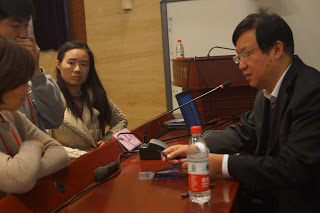 Ye Jiangchuan is the President of the Chinese Chess Association but remains very much involved in the coaching of the national team and took time our from his busy schedule to lead a discussion on practical endgames.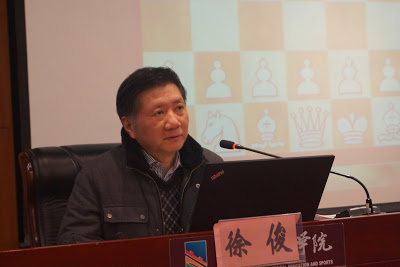 The final lecturer, on openings, was National Mens Team Coach Xu Jun.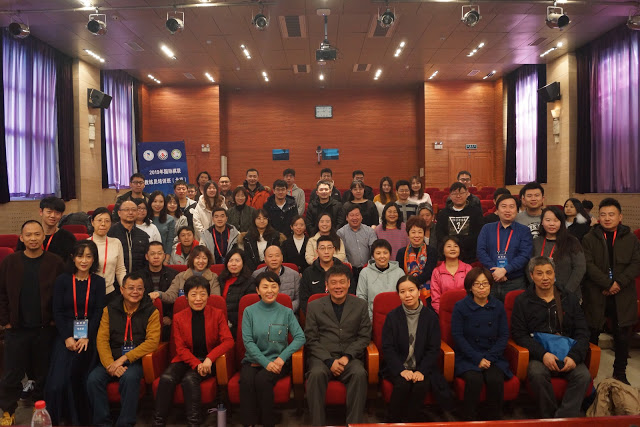 Results Table
| | | | | | |
| --- | --- | --- | --- | --- | --- |
| No. | FIDE ID | Name | Fed | D.O.B. | Proposed Title |
| 1 | 8603138 | 李瑛凯 Li Yingkai | CHN | 1989 | FI |
| 2 | 8611955 | 孟 悦 Meng Yue | CHN | 1970 | FI |
| 3 | 8603898 | 李臻宇 Li Zhenyu | CHN | 1992 | FI |
| 4 | 8605262 | 王珊珊 Wang Shanshan | CHN | 1984 | FI |
| 5 | 8611556 | 叶佳旭 Ye Jiaxu | CHN | 1979 | FI |
| 6 | 8603170 | 谭 娜 Tan Na | CHN | 1988 | FI |
| 7 | 8608121 | 刘蔓犁 Liu Manli | CHN | 1996 | FI |
| 8 | 8621268 | 杜春晖 Du Chunhui | CHN | 1987 | FI |
| 9 | 8604959 | 陈 骏 Chen Jun | CHN | 1995 | FI |
| 10 | 8606048 | 吴思博 Wu Sibo | CHN | 1995 | FI |
| 11 | 8608083 | 崔喜善 Cui Xishan | CHN | 1996 | FI |
| 12 | 8604843 | 谢博文 Xie Bowen | CHN | 1990 | FI |
| 13 | 8604746 | 房 岩 Fang Yan | CHN | 1996 | FI |
| 14 | 8606129 | 洪 星 Hong Xing | CHN | 1998 | FI |
| 15 | 8611050 | 姜昭伊 Jiang Zhaoyi | CHN | 1999 | FI |
| 16 | 8609152 | 吴蒙娴 Wu Mengxian | CHN | 1994 | FI |
| 17 | 8615802 | 张一平 Zhing Yiping | CHN | 1961 | FI |
| 18 | 8636389 | 李 博 Li Bo | CHN | 1992 | FI |
| 19 | 8637229 | 杨 林 Yang Lin | CHN | 1964 | FI |
| 20 | 8602085 | 吴文辉 Wu,Wenhui | CHN | 1975 | NI |
| 21 | 8602115 | 裴 斌 Pei Bin | CHN | 1985 | NI |
| 22 | 8611963 | 王 珍 Wang Zhen | CHN | 1968 | NI |
| 23 | 8626103 | 邱 天 Qiu Tian | CHN | 1985 | NI |
| 24 | 8631190 | 孙伟琦 Sun Weiqi | CHN | 1979 | NI |
| 25 | 8624569 | 孟 玫 Meng Mei | CHN | 1988 | NI |
| 26 | 8637075 | 孙婷婷 Sun Tingting | CHN | 1985 | NI |
| 27 | 8637130 | 任 品 Ren Pin | CHN | 1993 | NI |
| 28 | 8637067 | 李海冠 Li Haiguan | CHN | 1967 | NI |
| 29 | 8637083 | 陈 伟 Chen Wei | CHN | 1973 | NI |
| 30 | 8637091 | 张建伟 Zhang jianwei | CHN | 1971 | NI |
| 31 | 8637105 | 吴 莉 Wu Li | CHN | 1990 | NI |
| 32 | 8606722 | 刘晓妮 Liu Xiaoni | CHN | 1983 | NI |
| 33 | 8637113 | 刘 成 Liu Cheng | CHN | 1971 | NI |
| 34 | 8637121 | 王俊杰 Wang Jun Jie | CHN | 1986 | NI |
| 35 | 8637148 | 杨锡厅 Yang Xiting | CHN | 1983 | NI |
| 36 | 8605513 | 庄 蕾 Zhuang Lei | CHN | 1989 | NI |
| 37 | 8637164 | 许光玲 Xu Guangling | CHN | 1971 | NI |
| 38 | 8614156 | 张瑞中 Zhang Ruizhong | CHN | 1999 | NI |
| 39 | 8637172 | 陈 琼 Chen Qiong | CHN | 1970 | NI |
| 40 | 8637180 | 洪 啸 Hong Xiao | CHN | 1983 | NI |
| 41 | 8637199 | 兰 天 Lan Tian | CHN | 1988 | NI |
| 42 | 8637369 | 谢 韵 Xie Yun | CHN | 1994 | NI |
| 43 | 8637202 | 柳泓宇 Liu Hongyu | CHN | 1998 | NI |
| 44 | 8637210 | 沈广凯 Shen Guang Kai | CHN | 1993 | NI |
| 45 | 8637237 | 陈 琛 Chen Chen | CHN | 1978 | NI |
| 46 | 8637245 | 董 倩 Dong Qian | CHN | 1992 | NI |
| 47 | 8637253 | 杨 婷 Yang Ting | CHN | 1993 | NI |
| 48 | 8637261 | 李玉燕 Li Yuyan | CHN | 1974 | NI |
| 49 | 8637270 | 包文明 Bao Wenming | CHN | 1988 | NI |
| 50 | 8637288 | 李喜波 Li Xibo | CHN | 1979 | NI |
| 51 | 8637296 | 高天鸣 Gao Tianming | CHN | 1995 | NI |
| 52 | 8637300 | 于 洋 Yu Yang | CHN | 1980 | NI |
| 53 | 8637334 | 全利修 Quan Lixiu | CHN | 1991 | NI |
| 54 | 8637318 | 赵 彬 Zhao Bin | CHN | 1979 | DI |
| 55 | 8637326 | 冯 瀚 Feng Han | CHN | 1972 | DI |
| 56 | 8633428 | 洪 峰 Hong Feng | CHN | 1960 | DI |
| 57 | 8637377 | 王 燕 Wang Yan | CHN | 1996 | DI |