Results of FIDE Trainer Seminar in Delhi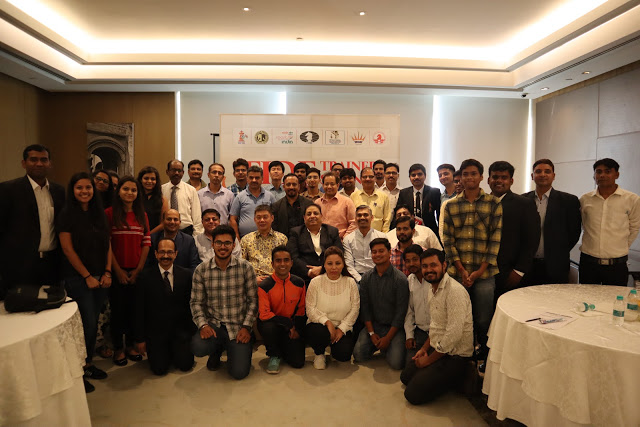 Report by Peter Long
On 18-20 October 2019, a FIDE Trainer Seminar was held in Delhi, India, and concurrently with the World Junior Chess Championships at the wonderfully well appointed Leela Ambience Convention Hotel where everyone was billeted.
The lecturers were Ramesh RB and Vishal Sareen, and no less than 42 attended, from which about half were from the city and surroundings.
As always the feedback from attendees was overwhelmingly positive and it was gratifying and energising to share experiences with so many eager to learn how to teach better. (I think the biggest takeaway for me was that titles to be awarded became secondary to all!).
We owe a special thanks to guest lecturer Sagar Shah of Chessbase India who took time off covering the World Junior Championships to help us explain the basics of ChessBase… and beyond!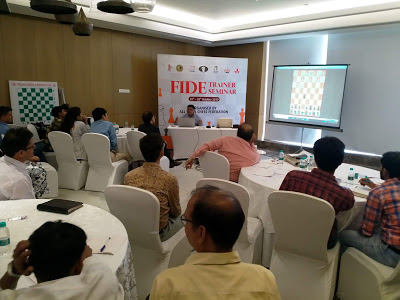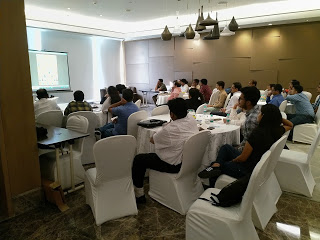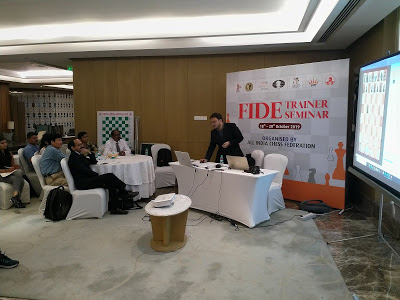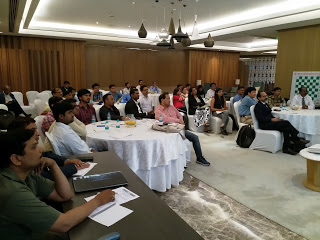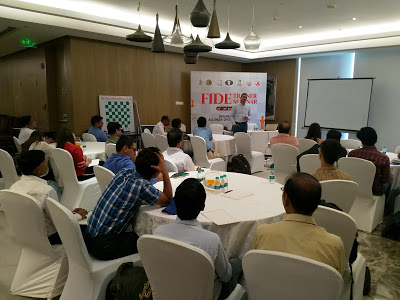 We were grateful to, and very honoured, for the time Bharat Singh Chauhan, Secretary of the All India Chess Federation, gave to the seminar given he was at the same time also busy organising a much bigger event.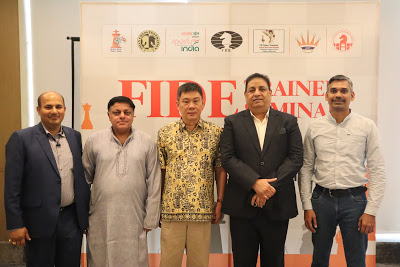 Results Table
| | | | | |
| --- | --- | --- | --- | --- |
| No. | FIDE ID | Name | Fed. | Proposed Title |
| 1 | 5004420 | Prasenjit Dutta | IND | FT |
| 2 | 5013780 | Ajeet Kumar Verma | IND | FI |
| 3 | 35030728 | Dubey Sanchay | IND | FI |
| 4 | 5069904 | Swapnil Raj | IND | FI |
| 5 | 5001978 | Negi Virender Singh | IND | FI |
| 6 | 5058287 | Gopakumar M S | IND | FI |
| 7 | 25037480 | Anil Verma | IND | FI |
| 8 | 5075050 | Uma Maheswaran P | IND | NI |
| 9 | 5028124 | Singh Malabika | IND | NI |
| 10 | 5045762 | Rathore Sonakshi | IND | NI |
| 11 | 5013941 | Sharma Hemant | IND | FI |
| 12 | 5076870 | Sonu Kumar | IND | NI |
| 13 | 35042971 | Ashish Raj | IND | NI |
| 14 | 25018671 | Amit Kumar Paul | IND | NI |
| 15 | 5069858 | Satyendra K Srivastava | IND | NI |
| 16 | 25004107 | Gaur H C | IND | NI |
| 17 | 25051253 | Singh Vimlesh Kumar | IND | NI |
| 18 | 5070279 | Anand Rai | IND | NI |
| 19 | 5063434 | Aishwarya | IND | NI |
| 20 | 35058096 | Gaurav Sharma | IND | NI |
| 21 | 35043447 | Shashi Nand Kumar | IND | NI |
| 22 | 5042771 | Jitendra Choudhary | IND | NI |
| 23 | 5066441 | Vijay Kumar | IND | DI |
| 24 | 25034553 | Parashar Prakash | IND | DI |
| 25 | 25037706 | Vivek Mitra | IND | DI |
| 26 | 25614800 | Akshay Kumar (2002) | IND | DI |
| 27 | 45022593 | Riya Kaushal | IND | DI |
| 28 | 45097216 | Choudhary Pushpendra Kumar | IND | DI |
| 29 | 35017012 | Anil K Kotwal | IND | DI |
| 30 | 25680528 | Varghese P D | IND | DI |
| 31 | 25618199 | Guru Dayal Prajapati | IND | DI |
| 32 | 35010069 | Kaviraj Sawant | IND | DI |
| 33 | 35046810 | Dhirandra Singh Bisht | IND | DI |
| 34 | 25672002 | Rahul Kumar Pal | IND | DI |
| 35 | 25651358 | Uma Maheswari Adhimoolam | IND | DI |
| 36 | 25004247 | Nidhi Sharma | IND | DI |
| 37 | 25680471 | Sanjay Kumar Mishra | IND | DI |
| 38 | 25098004 | Nitin Tyagi | IND | DI |
| 39 | 25061550 | Mrityunjay Singh | IND | DI |
| 40 | 25970763 | Ruchir Tandon | IND | DI |
| 41 | 45022062 | Shivakant Mishra | IND | DI |
| 42 | 33311170 | Jitendra Kumar | IND | DI |