We are Ready to Go with Chessable Classroom!
Chessable, the world's leading chess E-learning platform, in partnership with FIDE, has launched the FIDE Chessable Academy, aiming to support young talents worldwide and encourage them to succeed in chess. The introductory classes were held in English, Russian and Spanish languages and featured FIDE President Arkady Dvorkovich, FIDE Managing Director Dana Reizniece-Ozola, Chessable CEO David Kramaley and other officials.
FIDE President Arkady Dvorkovich:
"We are very happy with our collaboration with Chessable and the Play Magnus Group and our aim is to deliver the best coaching to the most talented young chess players around the world. Both of us are lucky. On the side of FIDE, together with Chessable, we have a chance to combine the coaches under the umbrella of our Trainers' Commission with the young chess players who we believe is our future, the next generation to dominate the chess arena for the next decade and even more."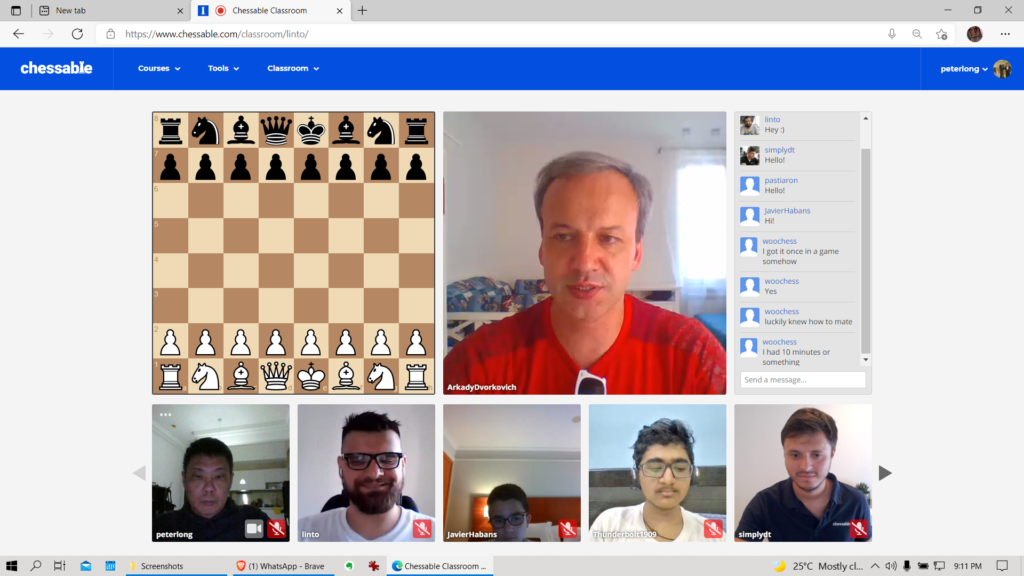 Chessable CEO David Kramaley:
"Welcome to Chessable Classroom! We are delighted to have this collaboration with FIDE and have you here. Chessable started six years ago with one mission: to make learning and improving in chess easier, more efficient and more fun, also, and I think we have gone a long way towards achieving these goals. Classroom is one of those end results and is here for you and your training now. Now we have over a hundred people working to build this tool to your benefit, and we have not only developers but also scientists, trainers and thousands of students like you giving us feedback, comments on how to make the platform even better. We are all here to support your journey, but perhaps the most important thing you can remember is that it is you that brings the hard work, who brings the motivation, the energy, the dedication, and most importantly, the love for chess which you all have."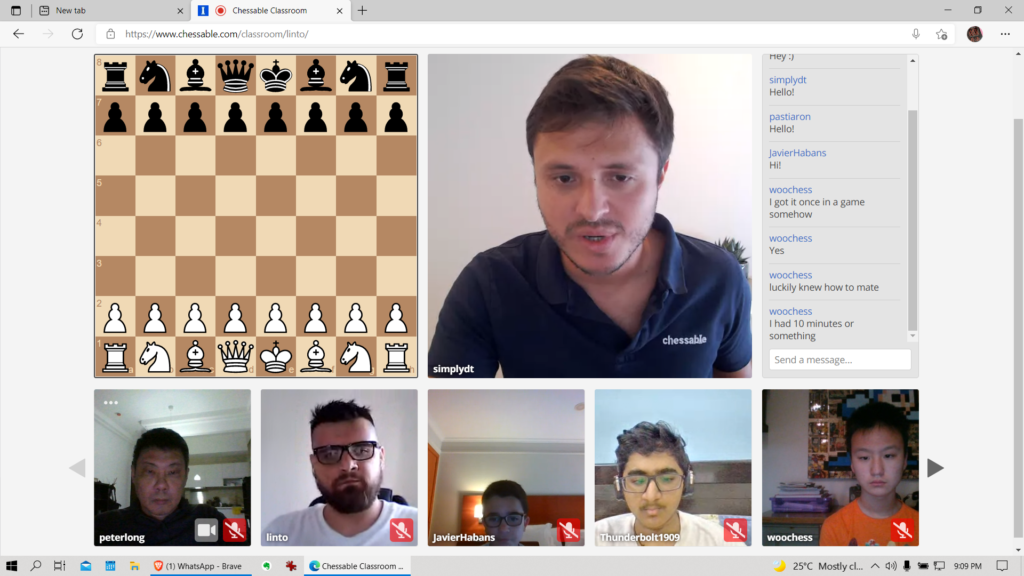 FIDE Managing Director Dana Reizniece-Ozola:
"There is a saying in the Russian language: "The clever will not go up the hill, the clever will bypass the mountain". But I am a chess player myself, and I know that there are no easy ways to win. You need to work very hard. If you are already here, it means that you will have such an opportunity. If you are here, it means that you are possibly the most talented and promising in your country. It is a great honour for you, but also a great responsibility. You'll have to work the whole summer. But I hope you will enjoy it, because you will have the opportunity to work with the best and most outstanding trainers. They will share their knowledge and experience, which will be very useful to you in the future. I wish you all the best of luck and enjoy your studies. And I'd like to say many thanks from FIDE to Chessable for such a good investment in the future of children and youth. It seems to me that investing in the future is the smartest investment, which you cannot lose. May this investment of yours have good and fruitful dividends."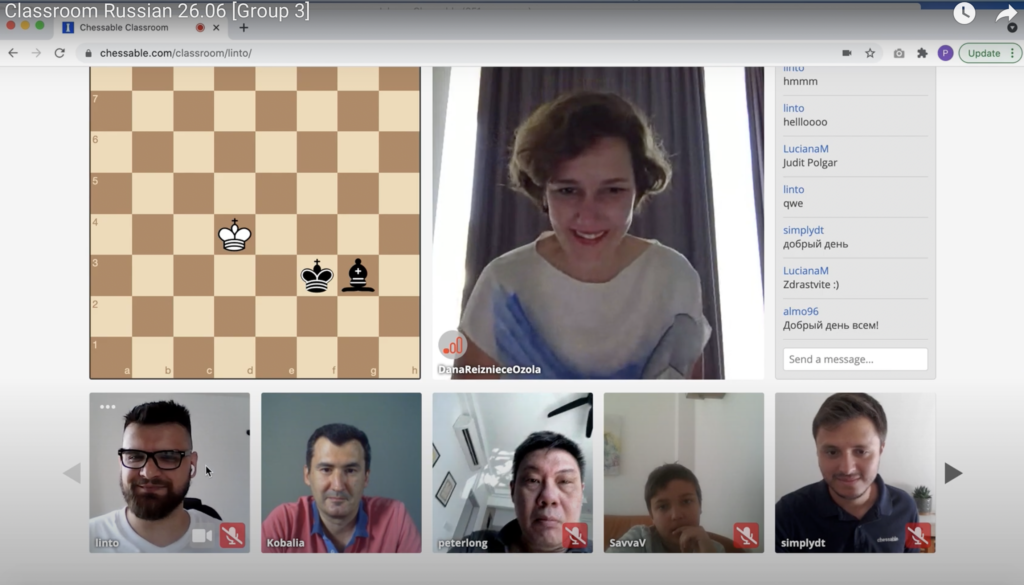 A three-year junior educational program is implemented by the FIDE Trainers' Commission (TRG). 243 most talented and promising young players between the ages of 8 to 16, representing 94 national federations, attended the program. Among the FIDE Chessable Academy students are young talents in the top five rankings in their age group and winners at the World Youth and Cadets Championships.
TRG Chairman Mikhail Kobalia:
"I am very glad that we are launching this project. Thanks to Chessable, great opportunities open up; in my time, we could not even dream of seeing such strong trainers online and learning from them. We want you to learn a lot from different people. It is great that the project will exist on a long-term basis. The program will run for three years; this gives young children fantastic opportunities to work and develop. I'm sure you can use them in the right way".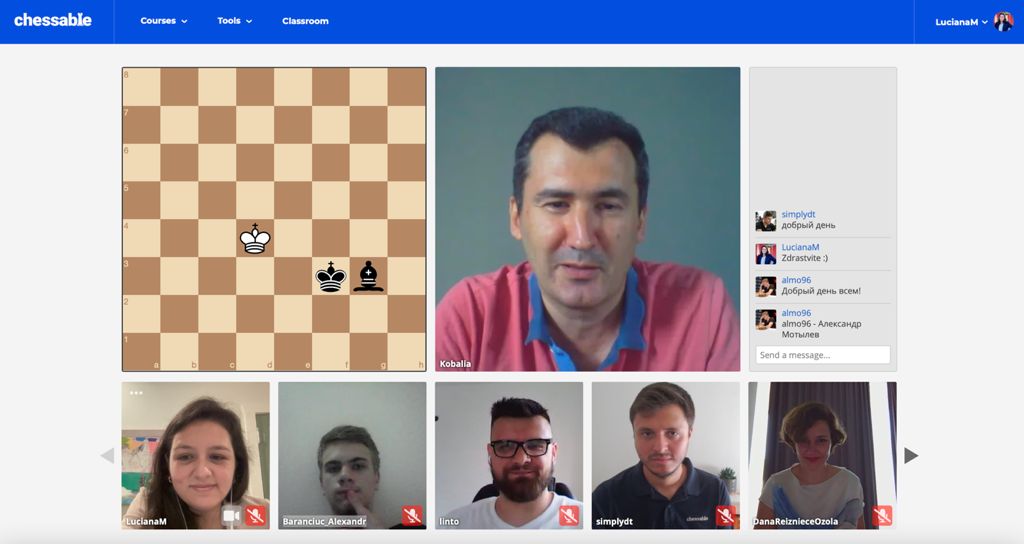 In 2021, 123 boys and 120 girls will learn and improve their chess working with the strongest trainers. The program will run from June to December and will provide a minimum of two hours online every two weeks. In addition, at least the top 12 participants will be selected to attend one or more training camps by legendary players.
During the entire duration of the training programme, a panel expert representing FIDE and Chessable will oversee the participants' progress, provide assignments, and work together in the evaluation of the young talents. Students will also get access to numerous free chess learning materials from Chessable.
You can find out more about the program here: https://trainers.fide.com/category/fide-chessable-academy/
About Chessable

Chessable is the world's leading chess E-learning platform and the largest digital chess library in the world. Chessable's mission is to make learning chess as fun and efficient as possible. It has published interactive video courses by a wide range of presenters and authors, including many of the world's top players, such as current World Chess Champion Magnus Carlsen.

The company was co-founded in 2015 by David Kramaley and International Master John Bartholomew. Chessable's team consists of expert content creators, scientists, developers and chess grandmasters all working together to create the best chess learning platform in the world.