Results of FIDE Trainer Online Seminar (Middle East) 10-12 September 2020
Report by Organizer IM & FST Sami Khader
FIDE Trainer Online Seminar for Middle East sets a record with 51 participants from 20 Arab countries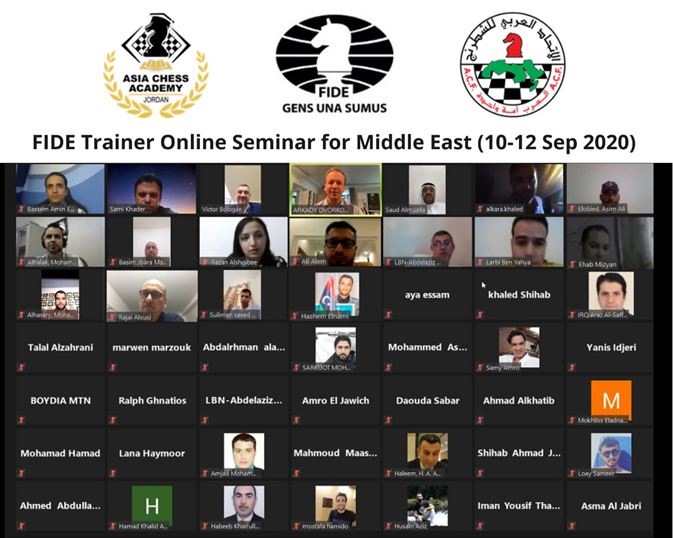 The Arab Chess Federation. together with Asia Chess Academy in Amman, Jordan, under the supervision of FIDE Trainers' Commission, organized a very successful FIDE Trainers' Seminar that witnessed a participation of 51 trainers from 20 Arab countries.
Held online from 10th to 12th of September 2020, the seminar saw very well received lectures from GM & FST Artur Yusupov, GM & FST Ivan Sokolov, GM & FT Bassem Amin, and IM & FST Sami Khader and explanation of FIDE Trainer System by FM & FT Peter Long.
The closing of the seminar was honored by the presence of FIDE President Mr. Arkady Dvorkovich and FIDE Executive Director, GM and FST Victor Bologan, who congratulated both the participants and organizer.
Speech of Arkady Dvorkovich:
"Dear friends, dear organizers of this event, warm greetings on behalf of FIDE and our FIDE Council.
I think it's great that you are able to use opportunities provided by the current environment, not to stop chess activities but on the opposite to continue doing your best to train professionals, to train those who love chess, and who want to devote the best parts of their lives to chess. I would also like to congratulate you on this record and on your efforts to bring chess to more people.
Hopefully normal chess activities will be back soon. In some countries, tournaments started already. International tournaments are still on hold, but we are hopeful that we can restart our activities pretty soon, and your involvement, contribution, and participation will be highly valuable. I think it is very important that chess is being developed in the regions where it is still not as developed as other countries, in particular compared to European countries. But you have all the prospects to flourish, and to improve the level of chess in your countries, and FIDE is ready to help, FIDE is ready to participate and contribute in this development.
Thank you, once again for bringing us in and for sharing with us this success story."

Speech of Victor Bologan:
"I would love to congratulate all the participants and organizers of this event.
It really is a very nice seminar, with the massive participation of practically all Arab nations, representing 20 federations. I, as a coach and a player, know that it is extremely important to organize such events because a good coach can bring many good players to the game. This seminar was very efficient as it was organized in Arabic language in addition to English. An idea which I, as a coach from Qatar, liked very much.
I want to thank FIDE and its President for the continuous systematical support for this kind of events and for continental and national federations.
I want to wish you good luck, thank you so much for the very good organizing".

Speech of Sheikh Saud Bin Abdulaziz Al Mualla:
"Thank you, Mr. Arkady and Mr. Bologan, for joining us in this seminar.
We, Arab Chess Federation, would also like seize the opportunity of Mr. Arkady's presence to extend our appreciation and thanks to FIDE for the continuous support and great efforts in developing chess in our region".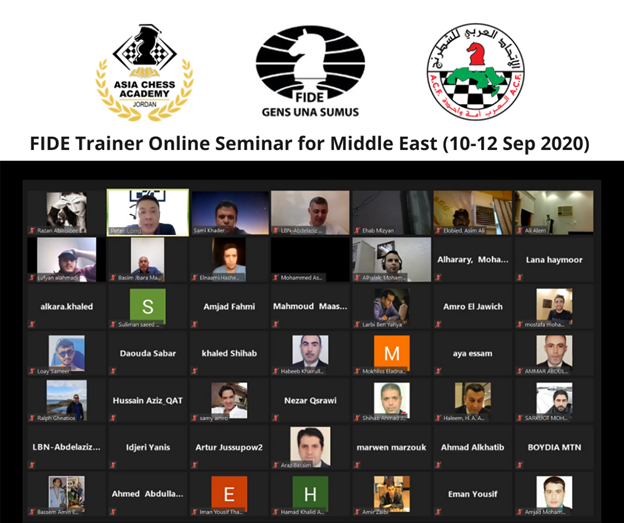 | | | | |
| --- | --- | --- | --- |
| FIDE ID | Name | Country | Proposed Title |
| 7910100 | Idjeri, Yanis | Algeria | FI |
| 10601058 | Samy, Amro | Egypt | FT |
| 10687203 | Essameldin, Aya | Egypt | DI |
| 10614389 | Hamido, Mostafa | Egypt | FI |
| 10687238 | Hassanen Fathy, Hazem | Egypt | DI |
| 4800699 | Basim Jbara Masood Beni Zaid | Iraq | FI |
| 4801911 | Haleem, H. A. AL-Jebawy | Iraq | FI |
| 4819438 | Iman Yousif Thannoon | Iraq | DI |
| 4804074 | Amjad M Alwan | Iraq | NI |
| 4800370 | Ammar Abduljabbar Oleiwi Al Khazaali | Iraq | FI |
| 4806140 | Habeeb, Kairullah Lafta | Iraq | FI |
| 4801040 | Al-Saffar, Araz Basim Mohammed S | Iraq | FT |
| 4812956 | Sarkuot Mohammed Qasim | Iraq | FI |
| 4801202 | Shihab Ahmad Jasim Alhasan | Iraq | FI |
| 4803191 | Ahmed, Nasir | Iraq | FI |
| 8103178 | Ahmad, Al Khatib | Jordan | FT |
| 8118736 | Ehab Mizyan | Jordan | NI |
| 8111626 | Lana Haymoor | Jordan | DI |
| 8104239 | Loay, Sameer | Jordan | FI |
| 21518840 | Alrehaili, Ahmed Abdullah S | Saudi Arabia | FI |
| 21500088 | Alem, Ali Hussain | Saudi Arabia | NI |
| 21518459 | Talal Murdy Alzahrani | Saudi Arabia | NI |
| 9201262 | Elnaami, Hashem A.K. | Libya | FI |
| 9200711 | Alharari, Mohammed Alsouri | Libya | NI |
| 5300401 | EL Mahmoud, AbdulAziz | Lebanon | FT |
| 5300681 | Maasarani, Mahmoud | Lebanon | FI |
| 5300746 | Shihab, Khaled | Lebanon | NI |
| 5303478 | Ghnatios, Ralph | Lebanon | FI |
| 5300380 | El Jawich, Amro | Lebanon | FT |
| 5302315 | Hamad, Mohammad | Lebanon | FI |
| 9005153 | Ben Yahya, Larbi | Morocco | FT |
| 9000410 | El Adnani, Mokliss | Morocco | FT |
| 19600100 | Boidiya, Sidi | Mauritania | FI |
| 19600097 | Sabar Ethmane Daouda | Mauritania | NI |
| 22007989 | Al Ghafri, Sulaiman | Oman | DI |
| 11502991 | MohammedS.S.Ashour | Palestine | FI |
| 12100293 | Nezad, Husein Aziz | Qatar | FI |
| 16100107 | Mohamed, Mohamed Abdulla | Somalia | NI |
| 12200190 | Elobeid, Asim Ali | Sudan | FI |
| 7607032 | Alhalak, Mohammad | Syria | DI |
| 7602324 | Alkara, Khaled | Syria | FI |
| 7603126 | Rafee, Mohd Hayel | Syria | FI |
| 5500796 | Zaibi, Amir | Tunisia | FI |
| 9400303 | Fahmi, Amjad | Yemen | FI |
| 10300740 | Alajmi, Abdulrahman | Kuwait | DI |