Results of the FIDE Trainer Seminar in Nassau
Report by FST & GM Darcy Lima
Grandmaster and FIDE Senior Trainer Darcy Lima taught a chess trainer course of the International Chess Federation (FIDE) in Nassau, Bahamas from July 26 to 29, 2019.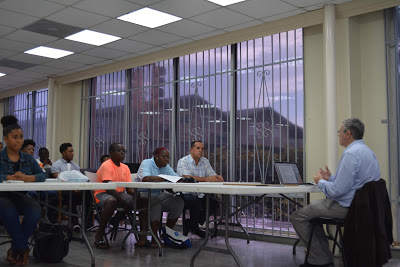 The FIDE Trainer Seminar was organized by Barbados Chess Federation and CCA with the support of FIDE through both it's Trainer's Commission and Planning and Development Commission.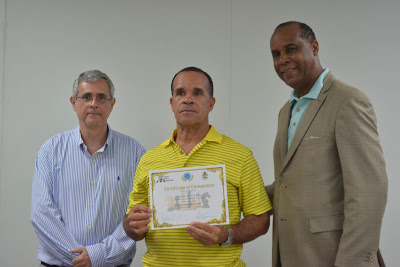 Held at the Centerville Center, attendance was participative with 23 students coming everyday and debating, and 21 doing the test.
Results Table
| | | | | |
| --- | --- | --- | --- | --- |
| No. | FIDE ID | Name | Fed | Proposed Title |
| 1 | 10400583 | Cecil Moncur | BAH | FI |
| 2 | 10401121 | Antoinette Seymour | BAH | NI |
| 3 | 10400729 | Davi C. Sands | BAH | DI |
| 4 | 10401024 | Svitlana Karelina | BAH | DI |
| 5 | 10401415 | Rhonda Kemp | BAH | DI |
| 6 | 10400494 | Nelissa Thomas | BAH | DI |
| 7 | 10401423 | Delroy Deangelo Stuart | BAH | DI |
| 8 | 10400320 | Nathaniel Alliday Higgs | BAH | DI |
| 9 | 10401431 | Antionette Newry | BAH | DI |
| 10 | 10401440 | Sharee Woodside | BAH | DI |
| 11 | 10400982 | Diana Margo Zaneta Williams | BAH | DI |
| 12 | 10400761 | Clive J. Stuart | BAH | DI |
| 13 | 10401458 | Richard Cooke | BAH | DI |
| 14 | 10401130 | Noah Albury | BAH | DI |
| 15 | 10401466 | Olga Roussos | BAH | DI |
| 16 | 10401318 | Winston Bonaby | BAH | DI |
| 17 | 10400796 | Francis Skinner | BAH | DI |
| 18 | 10401474 | Lincoln Knowles | BAH | DI |
| 19 | 10401040 | Aaron Anthony Ramtulla | BAH | DI |
| 20 | 10401482 | Pamela Philadelphia | BAH | DI |
| 21 | 10400842 | Ivoine Strachan | BAH | DI |