Results of the FIDE Trainer Seminar in Bratislava
Report by Lecturer, SFT Adrian Mikhalchishin, Hon. Chairman, FIDE Trainers' Commission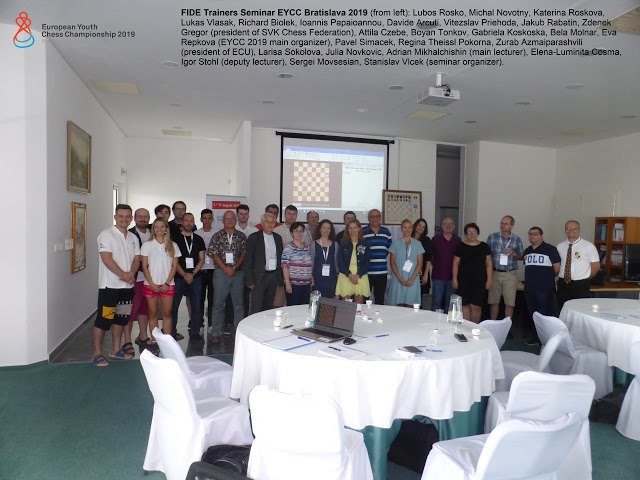 The seminar was conducted during the European Youth Championships. Among participants were many trainers from the Championships.
Seminar was very strong with 5 Grandmasters from the 21 participants. The level of trainers, present at European Youth Championships, was as usual, very high.
Assistant was FST Igor Stohl and I must thank another Assistant Mr. Vlcek, who himself participated in the Seminar.
There were very good conditions, supplied by the organizer Eva Repkova. Additionally it was great support from ECU President Mr. Zurab Azmaiparshvili and ECU Secretary Mr. Theodorus Tzorbatzoglou.
Results Table
| | | | | |
| --- | --- | --- | --- | --- |
| No. | FIDE ID | Surname, Name | Country | Title Proposed |
| 1 | 310204 | Movsesian Sergei | Armenia | FT |
| 2 | 307165 | Simacek Pavel | Czech Republic | FT |
| 3 | 319996 | Biolek Richard Jr. | Czech Republic | FI |
| 4 | 324752 | Vlasak Lukas | Czech Republic | FI |
| 5 | 705268 | Czebe Attila | Hungary | FT |
| 6 | 14900122 | Priehoda Vitezslav | Czech Republic | FI |
| 7 | 1323725 | Arcuti Davide | Switzerland | FI |
| 8 | 321192 | Rosko Lubos | Czech Republic | FI |
| 9 | 1201590 | Cosma Elena-Luminita | Roumania | FI |
| 10 | 14902052 | Theissl Pokorna Regina | Austria | FI |
| 11 | 704318 | Molnar Bela | Hungary | FT |
| 12 | 329517 | Rabatin Jakub | Czech Republic | FI |
| 13 | 14902001 | Vlcek Stanislav | Slovakia | FI |
| 14 | 2900491 | Tonkov Boyan | Bulgaria | FI |
| 15 | 310980 | Novotny Michal | Czech Republic | FI |
| 16 | 12000086 | Novkovic Julia | Austria | FT |
| 17 | 15000630 | Koskoska Gabriela | Macedonia | FI |
| 18 | 330558 | Roskova Katerina | Czech Republic | NI |
| 19 | 14915766 | Gregor Zdenek | Slovakia | FI |
| 20 | 5904919 | Sokolova Larisa | Cyprus | NI |
| 21 | 4201345 | Papaioannou Ioannis | Greece | FT |